Gold & Silver Buying Faq's
Q. What will it cost to get complete training, startup marketing materials, and the supplies for gold and silver testing?

$17 for our " How to Start a Cash for Gold Business" delivered to your email inbox immediately or $77 to have us print and ship our Manual United States Postal Service Priority Mail.A one-time $9.95 setup fee now plus $75.00 for training and materials to be deducted from your first gold shipment proceeds to us. This is a one-time $75.00 fee. There are zero additional costs. There are zero recurring costs. NOTE: you will need to invest in gold and silver testing materials eventually. We recommend Amazon for these supplies.
Q. What does the training consist of?
Via our " How to Start a Cash for Gold Business" training manual, our gold, silver, and platinum expert, having 35 plus years in this industry will help you with the following:
How to use the test kit
Preliminary screening of precious metals
Test for 10K Gold
Test for 14K Gold
Test for 18K gold
Testing for gold filled
Test for 21K to 24K gold
Test for platinum
Test for silver
Converting Grams, Pennyweights (DWT) and Ounces
Commonly encountered bogus items
Q. How can I check the actual market price of gold, spot or pure for any jewelry item?
Gold prices are based on competitive prices per the London PM prices. These prices are based on the premier gold pricing mechanism; Kitco.com You can easily check these prices here daily, at our partner's dedicated web site, or at Kitco.com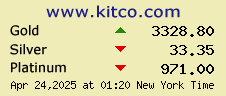 (Refresh this page to get the latest Kitco gold quote)
Q. Where can I learn more about buying and selling gold and silver?
If you lack a store to offer our Scrap Gold Program, consider ScrapGoldGuru.com. A good resource and a thorough explanation provided by expert jewelers
Q. What additional costs are involved in this gold and silver opportunity?

You may want to order ongoing marketing materials. Additionally, a neon sign, "We Buy Gold", available at Jantec Neon makes a lot of sense.
You may need additional gold and silver testing material eventually.
Trihouse Enterprises, Inc.
601 East Charleston Blvd
Suite 100
Las Vegas, Nevada USA 89104
702-208-6736 Office
A. Just the investment cost for our Manual.
We suggest Amazon for:
The starter pocket scale
Acids
Test stone
Magnets
Startup marketing materials
Should you require a certified or "Legal for Trade" scale as required by state law, you can purchase one through Amazon.
Q. What does the training consist of?
We leave no stone unturned and make sure that a complete solution is provided to our clients in offering them the ability to purchase gold and silver.
Q. What additional costs are involved to use this program successfully?
A. In order to make your gold and silver buying experience profitable, we highly encourage you to market the product. This can be done through many methods including:
SEO (web site search engine optimization)
Neon and banners
In store signs
Marketing campaigns
Promotions
You have access to all these items and more via VistaPrint.com. They even have a graphic designer and printer available for all your marketing needs.
Q. How much bad gold will I take in?
A. with our comprehensive training suited to all levels of staff from teller to manager, purchasing fake gold is held to a minimum. In most cases less than ½ of 1% of gold we receive is fake.
Q. How do I know the value of my gold?
A. Learn how to test each piece via our Training Manual. You'll learn how to determine the full results and break down of Karat type and amount received.
Q. When will I get paid for my gold?
A. On the spot by your scrap gold jewelry clients.